"Kick the ALP when they're down Week" continues here at TSP,
Kim Beazley launched his third bid to reclaim the Labor leadership after Opposition Leader Mark Latham quit politics to save his health.
But Mr Beazley faces a battle when Labor MPs vote for their new leader next week, with party sources expecting frontbenchers Kevin Rudd and Julia Gillard to run against him.
Bitter recriminations following last year's disastrous election loss came to a head on Tuesday when Mr Latham ended months of leadership speculation and quit.
His resignation brought to an end a turbulent 13 months as leader, marked by some early wins over the government but scarred by his aggressive style and a disastrous election loss.
The 43-year-old, who has been suffering from pancreatitis, resigned after weeks of criticism about his silence over the tsunami disaster and his attempt to keep his illness secret.
He blamed ill-health and the media for his decision.
"Public office can take it out of people and, after 17 years and two serious life-threatening illnesses, the time has come to put my family and my health first," Mr Latham told reporters.
Now I feel sympathy for him - he's sick and I wish him all the best - but isn't this another addition to the "If he'd won the election it would have been a farce" file? Would he have chucked the PM's job in three months after he started?
I'll be punting J. Gillard home in the leadership race. When your party has hit rock bottom and couldn't get any lamer then you may as well try something new. The real question is, if Beazley wins will Howard or Costello be celebrating harder? JH might never give up if he sees that's all he's up against. And if he does Pistol Pete will have a good 10 years of his own as PM.
UPDATE - I really don't mind Beazley personally but his time has come and gone. Try something new rather than a 3 time loser.
UPDATE 2.0 - We kicked the Democrats post election and look forward to sinking the slipper into the Government when they really hit the skids too.
UPDATE 3.0 - Which is doesn't look as if they'll ever be doing,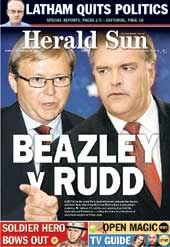 Say hello to another 20 years of Liberal Federal Government. *spit*
UPDATE 4.0 - Meanwhile does anyone else find it strange that Gillard apparently can't get elected because she's "in the left". What the fuck is going on with that party?