TSP's primer to five sports, and sporting events that you might want to fake an interest in - and how to get away with it.
1.
Tennis
When: A sport that runs wild during the Australian Open in January and occasionally rears it's ugly head around the Grand Slams and if Australia is doing well in the Davis Cup. If we're doing well in the Fed Cup well... well let's be honest that's never going to happen.
The first you'll notice is that suddenly there's wall to wall tennis on the television. Suddenly Fox Sports and Channel 9, the only networks to take any sort of interest in the sport through the rest of the year are given the arse and the ABC and Channel Seven are roped in. Out goes the world's greatest commentator Fiery Fred Stolle and in comes Karen Tighe for her 20th straight year of covering the Hopman Cup.
After what seems like a lifetime, and often is, we get to the Australian Open and suddenly the entire city loves tennis. Faces are painted, novelty giant tennis balls ($25 to you) are waved around and suddenly the world revolves around what Radek Stepanek is doing on Court 72 (which is somewhere near the carpark I think). For the first three days everyone hangs on the results of the Australian players, and after 90% of them have been knocked out the focus goes onto one hapless bastard who is expected to what nobody has done - so they tell us every twelve seconds - since Mark Edmonson in like 1874 when they played tennis on lava. Inevitably they never do, though Hewitt enjoys teasing the nation before bombing out every year. Remember the year he was about to serve in the semi-final and the Australian Day fireworks went off causing him to have a tantrum? Now that's entertainment.
Backed by non-stop advertising during the television coverage, the courts of Australia are jam packed for the next two weeks with people who swing racquets like they're baseball bats and wonder when they stopped making them out of wood. People all over the country vow to learn how to play, spend $200 on a stick/bat/paddle and then throw it in the cupboard when they lose interest after attempting to jump the net in victory a'la 1972 and breaking their collarbone.
So after two weeks of rapidly diminishing interest in weather that seems to be either 45 degrees or pissing down with rain it comes to an end on a Sunday night and everyone goes back to sports they actually enjoy, rather than ones that give them an excuse to take a day off work.
Non-ball related interest has risen in the last two years with a series of upskirtings and an ethnic riot. Last year we were also treated to the worst capscium spraying of all time. Watch closely, if the woman who sprayed the fans ran away any quicker she would have been nicked by a speed camera. Cue hundreds of talkback callers having a cry about those evil foreigners stealing their gentile sport away from them.
Fun fact: When I was 15 and went to the open some kid asked me for my autograph thinking I was a player. I hope he's looking after that, because it'll be worth a million. Either that or like everyone else who clamours for the signatures of the stars after matches it was thrown away twenty minutes later.
What they say: "I'd love it if our little Lleyton finally won one here, or if the Aussie girls would do well. The scud is looking dangerous in his comeback too"
What to say: "Of course the South Americans will never do well here. Their domain is on the clay of Roland Garros. How many Australian Opens did Andres Gomez win anyway?
What not to say: "Why yes officer, that is a camera attached to the end of my shoe"
2.
Sailing
When: From Boxing Day until the first boat crosses the line at Constitution Dock in Hobart. I've been to that dock and it smelt like shite.
I'm not quite sure if this does qualify as a bandwagon sport because despite the hundreds of hours of television and radio coverage and newspaper column inches spent covering it I'm not sure anybody really gives a toss. You could say the same about the Sheffield Shield, but at least that is building towards something bigger. About the only time the community really sat up and took notice was when they all sailed into Hurricane Bertha and there was massive carnage - and that was more of a humanitarian angle than a sporting one.
Much better value is the Melbourne to Hobart race. Not just because it's shorter and doesn't start in Sydney, but because on the first day it has a competition called the Cock Of The Bay. Hah, they said cock!
What they say: "Set the spinnaker to starboard"
What to say: "You know, if they get favourable winds across Bass Straight the crew on Skandia could be looking at a new race record"
What not to say: "I really hope some of these boats sink like that shit one in the America's Cup a few years ago"
3.
Australian Rules
When: Sure you can't avoid it for most of the year, but the bandwagon really fills throughout September.
If there's one thing you can be sure about when it comes to Australia it's that we like a winner. Why do you think anyone tolerates swimming? In fact that would have been on this list were it a real sport. The other vital part of the national psyche is the terror of being left out of something everyone else is into, and that's why every September thousands of people with only the most fleeting allegiance to an AFL club suddenly discover their love of the game.
Most Melbournians, if really pressed will find a footy team that they have some affiliation with. The difference is between the ones who go "oh my alleged team is in the finals, whatever" and the "yes, I'm a lifelong Hawthorn fan.. up the Hawks, oh Brodie Franklin you're my hero" set. These are the odious types who you can't shut up after a grand final win even though they've never been to a game in their life. "I'm a huge fan!" they cry, and then admit that they prefer watching games on television because it has commentary. Take a radio with you to the game? There's no place for logic here.
The pinnacle of this fiasco is the Grand Final, where half of the seats in the ground are deliberately set aside for fans of other clubs, competition winners, corporate sponsors and other varied idiots. Only the AFL could manufacture a scenario where the games played to qualify for the Grand Final are better attended and more passionate. Compare a preliminary final to a GF and the atmosphere may as well be like going from a drug fuelled rave in a airport hangar to your grandmother's funeral. Still, these space wasters who deprive real fans of their tickets go along and pretend they're providing some great benefit to society. Hopefully the football revolution comes on a grand final day so we can line these people up and have them shot.
What they say: "Richmond's decision to draft Tambling instead of Franklin is one which will haunt them for years to come so it's no wonder that this time they bowed to the pressure of their fans and made the decision to draft Cousins"
What to say: "Scott West was robbed out of a Brownlow in 2000, but he doesn't need honors be acknowledged as a true champion of the game"
What NOT to say: "I can't believe the AFL didn't think of expanding into West Sydney earlier, we really could stand to lose a team or two in Victoria"
4.
Horse Racing
When: Caulfield Cup day to Oaks day inclusive. Then it's back to blokes in overcoats and crowds of 200 at Moonee Valley on a Thursday.
For most of the calendar year racing of any code is treated with complete disdain. Think gambling and you think of crusty old men in the TAB with form guides that they stole from the paper without paying for it. Even when somebody pays $2 million for a horse at the annual yearling sales barely an eyebrow is raised, but then all of a sudden almost out of nowhere the city is consumed by the idea of "going to the races". Of course nobody gives a toss about the actual horses, it's more about getting trashed, collapsing in a hedge and not being able to get a train home.
Some do take their gambling seriously though. Our ridiculously oversized and expensive hats off to those lunatics who spend the entire year betting millions of dollars on thoroughbreds, but even more so a big round of applause to the wannabe big shots who go into the carnival thinking they've got it all worked out only to lose their entire life savings instead. The only thing left to do is get maggoted and have a fight with somebody in the members enclosure.
Then, bang, after a final, barely tolerated, hoorah on Stakes Day the prospect of frocking up and watching midgets whipping horses around a track while drinking yourself into a coma is about as welcome as a Daphne and Celeste comeback tour.
What they say: "Right, now I've got two legs of the Quaddie, I'm into the running double on the 2nd at Cessnock and my first four on the 3rd at the Dapto dogs is looking like a cert. Can I borrow twenty bucks?" or "Bleghhhh" when they spew on your shoes.
What to say: "I always put my money with the cups king, Bart Cummings and I was delighted when he won the big race again last year."
What NOT to say: "You know what, I reckon I'd prefer a night at the Sandown Park greyhounds"
5.
FIFA World Cup
When: Every four years starting in July 2006, and continuing through to at least 2010.
I remember a time in the not at all distant past when 95% of white, anglo-saxon god fearing, dinky-di "aussies" loathed 'soccer'. To express an interest in football in the late 1980's was an invitation to be referred to as a wog or woman. You see it was a game strictly for poofs and if you wanted to be macho you'd grab your cricket bat and stand in a field for days wearing pristine whites and being politely applauded instead.
Then at some point in the late 90's everything changed. Australia had suffered two near misses at qualifying for the World Cup (and let's face it I'll never get over that Iran game..) and the emergence of Pay-TV and the internet had made the game accessible. No longer did the handful of us who cared have to cower under the doona at 2am to listen to the BBC World Series, or avoid the Monday sports section to watch the 10pm highlights package on the ABC after Birds of a Feather. Now it was suddenly fashionable to wear team shirts on the street - but only the big teams - and discuss with your mates whether or not Chelsea would ever win another league title. Of course at the time you didn't actually know any Chelsea fans, but then some rich bloke bought them and everyone's walking around in replica shirts singing Blue Is The Color.
And so when Australia finally qualified for their second world cup with that amazing penalty shootout win over Uruguay it was licence for everybody who had loathed the game in the past to suddenly profess a love of the world game. The internet nearly crashed with all the people googling "Johnny Warren" to see who it was that everyone kept talking about on the World Cup coverage. So they crowded public spaces all around the country, bit their tongues and pretended that they really didn't mind a nil-all draw and went off their nut for the Aussies from kickoff against Japan to the moment that cheating Italian cunt fell over in the box and knocked us out. Then, finally justified, 90% of them went back to making snide comments about greasy Europeans going down as if shot without having been touched.
Most of the other 10% jumped on-board the A-League and subsequently jumped off again if crowds anywhere other than Melbourne are anything to go by. With the national team a cert to qualify for South Africa 2010 (if you're planning to go and support them watch your wallets, and ladies buy a chastity belt) the current complete apathy for the game is projected to turn into an utter frenzy again. I tend to agree with this insightful letter, published in the Melbourne MX newspaper just after that famous shootout win;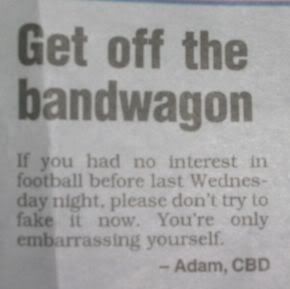 What they say: "Despite Mark Viduka's poor scoring record for the Socceroos, I believe that his performances as a target man who can hold the ball up have really earnt him his place in the squad"
What to say: "Despite the hype Guus Hiddink really did have a poor 2006 World Cup as manager. The fact is that with the starting lineup on the field we only scored one goal from open play"
What NOT to say: "Why don't they just get rid of offside and let people stand anywhere. Works alright in footy"