New to this blogging caper? New to this blog? Bullshit, I know you're exactly the same people that were reading three years ago and that you remember the glorious 2006 "Hotdogs 4 Gold" logie awards campaign.
Need a recap?
Fair enough;
* Hotdogs was some slop merchant off Big Brother who, despite the handicap of not having a real name, ended up hosting one of the first late night
moneymaking scams
quiz shows on Australian television. He was also fined for apparently being noshed off by a groupie outside a Brisbane pub, but who's going to hold that against him?
* Somebody who was definately not in any way related to me discovered that in those innocent times the "unique" voting code that TV Week expected you to get off the front cover of their magazine to vote was actually in no way "unique", and that they simply started at a certain point and counted up one-by-one.
* Several people pointed this flaw in the system out and - let's face it this is where THEY probably went a bit wrong - invited punters to exploit this to vote early, vote often and vote a million times for the
popular
late night quiz show host.
* A successful media campaign led to coverage in the mainstream press for the campaign. This led to TV Weak calling the lawyers in and issuing cease and desist letters to the key players. You will note from the following that they never actually said they had an issue with the exposure of the flaws in the voting system;
"By the unauthorised use of our client's logo and the inclusion of a link to the TV Week online voting site, the website implies an association with TV Week. Such conduct is in breach of Section 53 of the Trade Practices Act."
So theoretically we.. err they could just have removed the logo and the link and everything would have been alright - but who's going to risk getting hauled over the coals for a novelty action?
* Rumors abounded that there were so many votes for Hotdogs that TV Weak (who are, in no way connected with the popular television publication of a similar name) employed people to specifically pick out the votes for him - whether they were legitimate or not.
* One of the presenters made mention of it during the ceremony (!) but we never heard of the campaign, or Hotdogs himself ever again.
Lest they ever be lost, let's remember some of the great moments of the "Hot Dogs 4 Gold" campaign.
(Right click and view image because I'm too lazy to resize)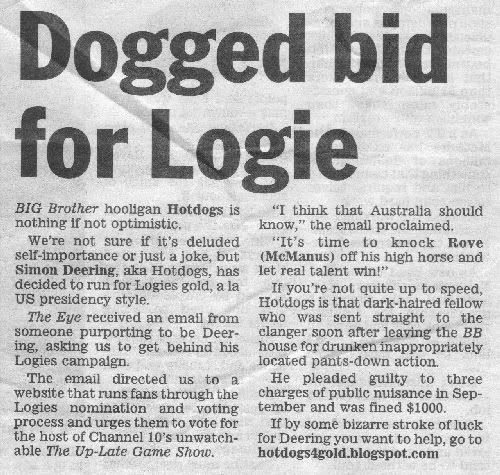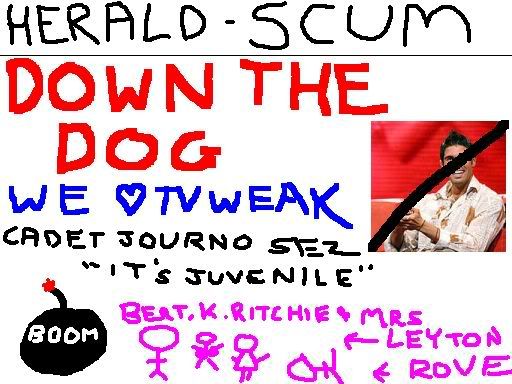 After the Herald Scum turned on the campaign shortly after their friends the lawyers stepped in.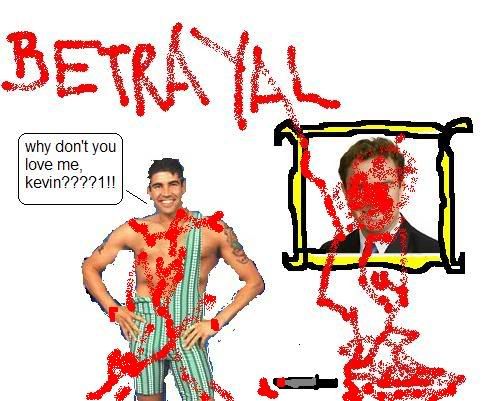 For legal reasons I can't explain this one.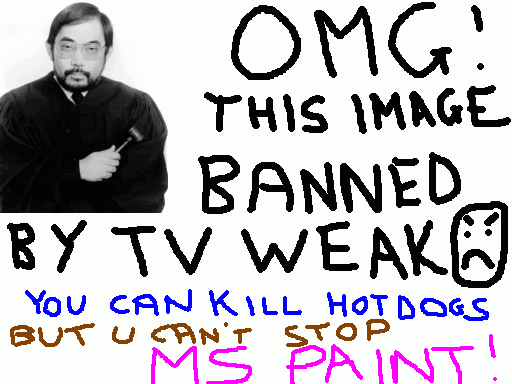 But this was the shot that replaced anything with the TV Weak logo or their pissy statue in it. Thanks Judge Ito.
So, why the reminiscing? Well, apparently stacking the TV Weak awards is back in fashion -
and encouraged
;
INTERNATIONAL celebrities have joined fans in a campaign to farewell Neighbours veteran Ian Smith with a gold Logie.

Smith has been the most consistent neighbour as Harold Bishop for more than 22 years and finally exits the soap on Friday.

And with friends like the faded 1980s popstar Rick Astley and the now happily grey Tom Jones, who can stop him?

Both have sent best wishes for his retirement and have backed an I Heart Harold gold Logie campaign being run on the Neighbours website.

"I was never going to give you up but you're off anyway - best of luck," Astley said.

Jones said, "Harold, good luck in the future from me, Tom Jones - we're gonna miss you."

Australian Idol judge Dicko said, "Twenty years ... Shapelle Corby got less. Mate, you deserve the gold Logie, I'm voting."
I just hope they've tightened their voting code process in the last few years.. otherwise it might be time for the return of the Dog three years too late..