(Dear readers,
Last night's Eurovision was as dull as you've come to expect. No novelty songs, no classics. I'll get around to doing a write up eventually, but in it's place we now cross to the England for a version special TSP interactive event...)
Ladies and Gentlemen, welcome to
Wimbledon Greyhound Stadium
for Europe's all time night of nights. Please welcome your host for the evening, the one and only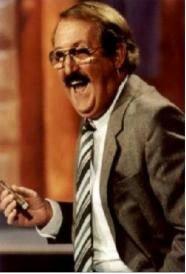 Ugly Dave Gray.
'ere thank you very much. You know, when they rang me up and offered me the chance to host this evening I told my wife and she turned to me and said "It's going to be a special occasion. I'd like you to put me in something long and flowing". So I threw her in the river. Boom Boom.
Anyway, on with the evening. The rules for Fantasy Eurovision are as follows;
* No matter if the singers carked it years ago. After all we've all died on stage at one point or another.
* No boring three minute limit for songs.
* In the event of more than one nominee being available for the nation then the participant has been randomly drawn.
Got that? Good. You know, on my way here tonight I walked past a couple a couple of flies. One looked down at the other and said "Don't look now, but your human's open" Ah ah ah ah ah ah.
Err anyway. Once you're done refreshing your memory of the classic hits contained within scroll down to the bottom to cast your vote in this important contest. Viewers across the world are hanging on the results.
Shall we all have a bit of a singalong then? Alright, let's have contestant #1
No, not that number one. This number one;
1. Switzerland - DJ Otzi "Hey Baby"
2. Wales - Catatonia "Road Rage"
3. East Germany - Nina Hagen "New York, NY"
4. Denmark - Aqua "Dr Jones"
5. Portugal - Rui Da Silva "Touch Me"
6. West Germany - The Real McCoy "Come and Get Your Love"
7. Italy - Albert One "Turbo Diesel"
8. Russia - TATU "All The Things She Said"
9. Iceland - The Sugarcubes "Birthday"
10. Moldova - O-Zone "Dragostea Din Tei"
11. Sweden - Roxette "Joyride"
12. Belgium - Plastic Bertrand "Ca Plane Pour Moi"
13. Northern Ireland - Feargal Sharkey "A Good Heart"
14. England - The Members "Sound of the Suburbs"
15. Norway - A-ha "The Sun Only Shines On TV"
16. Greece - Diamanda Galas "Double Barrel Prayer"
17. Spain - Las Ketchup "The Ketchup Song"
18. Netherlands - Dr. Alban "Sing Hallelujah"
19. Austria - Falco "Der Kommissar"
20. Republic of Ireland - The Pogues and the Dubliners - "Irish Rover"
21. France - Serge Gainsbourg and Bridgitte Bardot - "Bonny and Clyde"
22. Scotland - The Proclaimers "500 Miles"
23. Romania - Enigma "Sadeness Pt. 1"
Wasn't that marvellous?
Now for the most important part of the evening.
Click here to cast your vote
.
While you vote let's take a look at the act that the reason we're in majestic South London tonight. Ladies and gentlemen, the reigning champions - Cats UK
Results will be available after a decent period of reflection.