It's been a while, but where better to start off again than with the medieval stylings of Men Without Hats?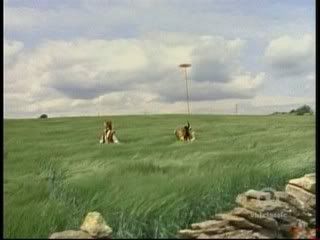 Apparently they could dance if they wanted. Often through a medieval English field if the video is anything to go by. Which was strange considering they were Canadian.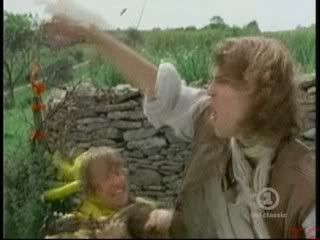 There was definately a sense of adventure involved, and not just because he was associating with a midget.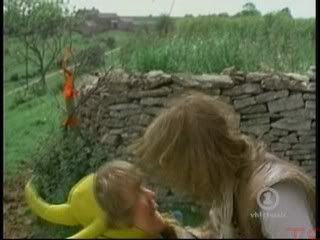 Or assaulting a midget as the case may be.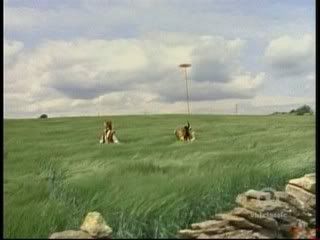 No, the Men With Hats were all about wandering through a field aimlessly. Whilst doing this they would find...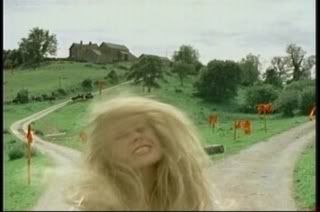 ... a random blonde woman who has one line in the entire song but who you can't avoid for the next two minutes.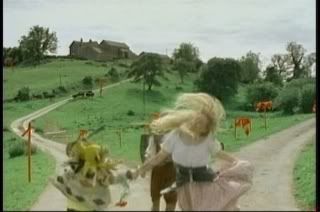 So, off the disturbing three-way of Hatless Man, midget and random woman skipped off into the distance.
Where there was much leaping, prancing and method acting.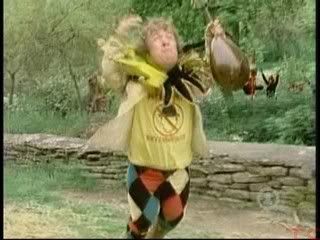 And a midget in the band t-shirt. Extra points for ignoring the otherwise ye olde setting just to sneak some merch into the clip. Sadly no records are available of the sales of the shirts after this video, but I'm willing to bet that even if they couldn't match up to Gloria Estefan and the Miami Sound Machine (pre traffic shenanigans) they would have comfortably beat Collette's "Ring My Bell" range in stores for Christmas.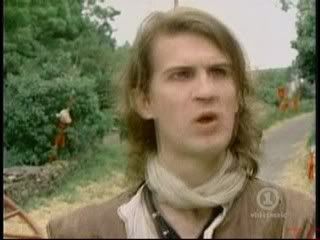 As dodgy as the acting is in this clip - and a simple screenshot won't explain anything - it's almost ludicrous enough to work.
Also ludicrous is a troupe of Morris Dancers suddenly invading the town on masse for more leaping, dancing and heathen behaviour.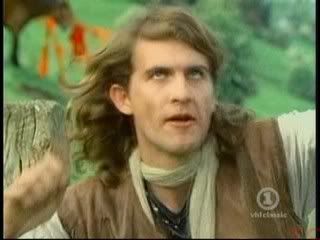 There's another one..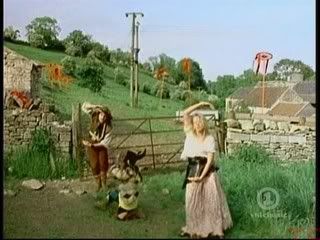 And here's what you've been waiting for. The actual Safety Dance itself. Doesn't look particuarly safe to me so you'll have to take their word for it. In fact when you watch the video it appears to involved very quick and angular moves of the arms which could take somebody out in a crowded room so I'd check with your OH&S rep before you try any of this shit in the office on Monday.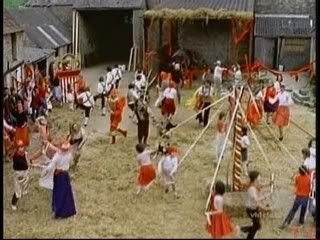 General medieval shenanigans.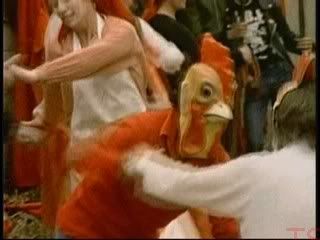 More medie... hold on, what the fuck is that!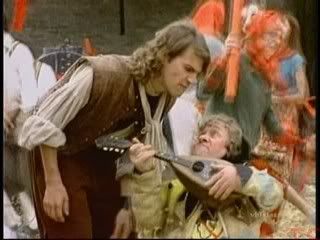 Even the midget starts to get confused as he tries to poke his normal sized friend in the cock with a mandolin.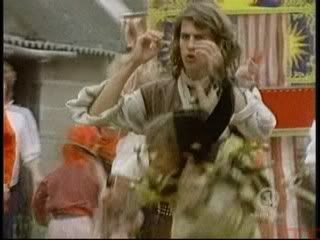 The exact same pose in which the director came up with the concept for this clip after waking up on somebody's couch at 4.30 in the morning with two pizzas and a surprisingly well-used bong perching precariously on top of him.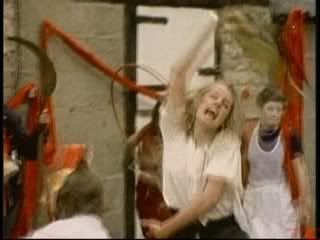 Here's one for those of you 'playing' at home who want another picture of the girl.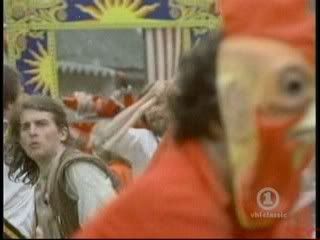 And in case it's your go here's another shot of the chicken mask. It's certainly mine.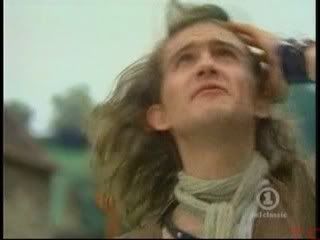 What do you make of this video Mr. Without Hat?
Oh, and how about the prospect of another hit single?
Fair enough.
Less joyous is the
live version
where they suddenly decide they're Bauhaus.
See you in 12 months!