You have to go a bloody long way to find any team I follow seriously winning anything.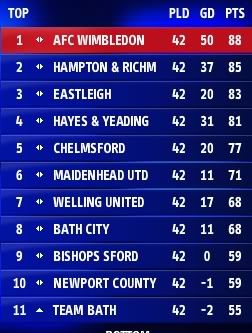 Now only one division separates us from the Football League and real action. Dizzy stuff. Consider that in 1990 we played Luton Town in the (now) Premier League and 20 years down the track we're playing them in the fifth division. We had our club stolen and they had theirs destroyed from the inside - and here we are together again.
Ahh.. Everything is alright with the world until 4.40 this afternoon when
the other member
of "the big two" get stuffed by 200 points.