Welcome one and all as we join together for the ninth year in a row to hand out the prestigious David Lee Roth Medal for my favourite song of the year.
Apart from the cavalcade of nobodies, has beens and never will bes that are about to get a run in the top 50 the major surprise of this year is that I managed to get the top 50 done inside the actual year instead of waiting until January 8.
To recap where've come from (and to look back on how many of these people haven't ever been heard of again) here are the previous eight chart leaders. Click the year for a handy link to the full countdown.
2005
1. Kaiser Chiefs - I Predict A Riot
2. Maximo Park - Apply Some Pressure
3. Goldfrapp - Ooh La La
4. The Killers - Somebody Told Me
5. Bloc Party - Helicopter
2006
1. The Young Knives - Here Comes The Rumor Mill
2. Giant Drag - This Isn't It
3. Silvia Night - Congratulations
4. Lily Allen - LDN
5. Joey Negro - Make A Move On Me
2007
1. The Hold Steady - Chips Ahoy!
2. New Young Pony Club - Ice Cream
3. The Teenagers - Homecoming
4. Arctic Monkeys - Fluorescent Adolescent
5. Jack Penate - Spit At Stars
2008
1. Lethal Bizzle - The Come Up
2. Neon Neon - Luxury Pool
3. MGMT - Electric Feel
4. Empire Of The Sun - Walking On A Dream
5. Fryars - Olive Eyes
2009
1. N.A.S.A - Spacious Thoughts (featuring Tom Waits and Kool Keith)
2. Yeah Yeah Yeahs - Heads Will Roll
3. Boy Crisis - The Fountain of Youth
4. Bat For Lashes - Daniel
5. Low Fidelity All Stars - The Good Times
2010
1. My Chemical Romance - Bulletproof Heart
2. Goldfrapp - Rocket
3. Lena - Satellite
4. Keane - Stop For A Minute (featuring K'naan)
5. Paul Heaton - Even A Palm Tree
2011
1. REM - Discoverer
2. MEN - Credit Card Babies (Stereogamous Remix)
3. The Strokes - Taken For A Fool
4. Dutch Uncles - The Ink
5. Calvin Harris and Kelis - Bounce
2012
1. Loreen - Euphoria
2. Escort - Cocaine Blues
3. Plan B - Deepest Shame
4. Jim Noir - Ping Pong Time Tennis
5. Elton John vs PNAU - Icy Black Stare
The process is, as always, complicated. I never listen to current radio, and I don't know what in god's name 'the kids' are into at any given time, so songs are considered and shortlisted through the year based on recommendations, reviews and the Slovenian Eurovision entrant. From there I choose my personal favourite 50 songs (no, your favourite tracks aren't included. Make your own list, it's the in thing to do at this time of year) then attempt to put them into something resembling the correct order via a gruelling bootcamp where they're rated and pitted against each other using formulas so secret that Colonel Sanders would rise to applaud.
The rules are fiendishly simple, an artist or artists may have as many songs as they like on the shortlist but only two can make the top 50. No covers (although that clause was stretched to its limits last year) and the decision of the match referee (i.e me) is final.
Your host, once again, is this guy- and what a fine job he does year after year.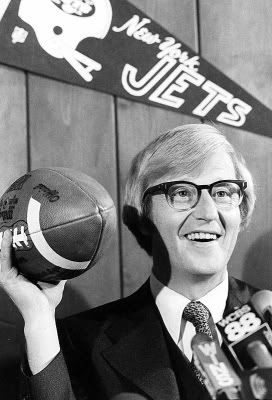 50. Palma Violets - 14
Goes on a bit (they tone it down live if you're interested in that sort of stuff) but it was written on the back of a bus (the #14 wouldn't you know) and sung into a mobile phone so they could remember it the next day so it's probably lucky to have even made it to this stage.
Previous entries: (1)
2012 - Best of Friends (#50)
49. Justice - Brianvision MMXIII
Instrumentalism. Coincidentally from exactly the same compilation album as...
48. Breakbot - The Beach
There's still time for you to use this as the soundtrack to a summer TV show or commercial.
47. Yeah Yeah Yeahs - Area 52
Science fiction antics in the YYY's lowest finish since that year I absurdly extended the countdown to 100 songs.
Previous entries (4):
2006, Gold Lion (#11)
2007, Down Boy (#66)
2009, Heads Will Roll (#2), Softshock (#24)
46. Beady Eye - Flick Of The Finger
To nobody's surprise it's like Oasis when they weren't much chop any more. They always had one good song per album even after disappearing up their own arses, and to Liam's credit this is his. Much to Noel's chagrin (as if he would give a rats) the score in TSP Top 50's is now 2-0 to the lesser brother.
Previous entries (1):
2011 - Four Letter Word (#17)
45.
Fat Goth - Pinball Moron
Good band name, quality song title, great album cover art. Reasonable song. Warning - contains whistling.
44. Iggy and the Stooges - Burn
He sounds like he's going to topple over and cark it most of the time these days, but if you'd done what he has it would be a miracle if you were even still walking at this point.
43. Disclosure - When A Fire Starts To Burn
Effectively just the same lyrics over and over again. Won't be the last time something makes my list despite that handicap.
42. Yeah Yeah Yeahs - Sacrilege
Less sci-fi, more shouting and - without doing my maths - I think the song that ties the Yeah Yeah Yeah's with Goldfrapp for most lifetime chart entries (6).
41. Kings Of Leon - Rock City
Minor return to form, not quite their first album again but better than that gash they were serving up a few years back. Gash which to be fair I actually didn't mind until it started dominating the charts.
Previous entries (2):
2008 - Use Somebody (#46), Sex On Fire (#8)
40. White Lies - There Goes Our Love Again
39. CHVRCHES - The Mother We Share
Odds on this will become massive here in three months' time and I will grow sick of it. See Leon, Kings of (2008)
38.
Birthday Suit - You Hear The Drums
This is a good time of the year for discovering which songs were just humble album tracks and nobody bothered making a video for.
37. Babyshambles - Nothing Comes To Nothing
Pete Doherty - so capable, so off his nut 24/7. I liked this track, but I'd have been far keener if it wasn't for the irony free use of the word 'baby'.
36.
Iggy and the Stooges - Beat That Guy
More post-middle aged manboobery. There's a reason they're not making videos.
35.
Public Service Broadcasting - The Now Generation
Well look, this is cheating a bit. After all it's not like they wrote the lyrics or performed any of them - but the concept of playing modern music over old newsreel audio appeals to me. At least with this form of music you can learn something as well.
Previous entries (1):
2012 - Spitfire (#21)
34. Pixies - Bagboy
Considering the amount of bands that I like who came back with albums that positively woofed during 2013 (some of whom have managed to swing one track into this countdown by virtue of positive feelings from the past) this was decent. Sensibly the kept the comeback to an EP instead of trying to drag it out across a whole album.
33. Sleigh Bells - Bitter Rivals
I feel that all their songs are exactly the same with subtle differences, and this is no different. Boo to them though for including an LSU jersey instead of a pro football one and therefore not qualifying for my
new blog
(untouched after the first day).
Previous entries (1):
2012 - Comeback Kid (#22)
32. Pet Shop Boys - Love Is A Bourgeois Construct
Good song, but the title makes me want to stab somebody with a fork. Could also stand to lose a couple of minutes.
31. The Stepkids - The Lottery
Steely Dan and their lawyers will be along any minute now.
30. Parquet Courts - Stoned and Starving
Music for stoners. Not that I'm a stoner, but it's not just the title - I know this is right up their alley.
29. Devendra Banhart - Won't You Come Over
Given that the last song he had which made the TSP50 shortlist was about John Wayne Gacy dismembering kiddies I'd have to say no, I won't be coming over.
28. Pet Shop Boys - Axis
More PSB, but this time shorter and with a less annoying title so it ranks higher. Also sounds like the theme song to 80's cop show which is in no way a bad thing.
27. Phoenix - Entertainment
If you can accept that just as Lady Gaga will never do another Poker Face that Phoenix will never again touch the heights of Too Young then they've released some quality songs in the last few years. But they'll never do another Too Young and that saddens me. Also the records show that I've never had one of their recent songs in my top 50 so maybe they're not all that good after all.
26. The Strokes - All The Time
Much like The Simpsons, The Strokes' best remains foremost in our memory even as we're constantly handed new stuff that is decidedly ordinary. For the second album in a row the handful of decent songs were almost drowned out by tremendous amount of bollocks phoned in on a wonky line.
This is a slight, sliver of a song but then again so was everything on their first album and that's one of my all-time favourites. Still, time for The Strokes to give the game away and go back to just being filthy rich.
Previous entries: (2)
2005 - Juicebox (#19)
2011 - Taken For A Fool (#3)
25. The Strypes - Blue Collar Jane
This year's entry in the "next big rock thing" sweepstakes, following on from others to have fallen off the face of the earth like The Vaccines and Palma Violets. "Next" big thing is slightly misleading considering these juvenile delinquent looking types are practically bashing out the exact same stuff The Beatles were all those years ago but with more oomphy guitars. Not such an earth shattering shock 50 years on but there's potential here.
24. David Bowie - Where Are We Now
Wistful reminiscence that surprised everybody when it came out with precisely zero prior warning just when everyone thought that Bowie had probably carked it and we hadn't been told.
23. Suede - It Starts And Ends With You
It's obviously no Animal Nitrate (what is?) but considering the record of most other bands with comeback albums I'd say they got this just about right. It was certainly better than most of the later stuff they were pumping out before splitting.
22. Kings of Leon - Don't Matter
It's almost odds on that I'll hate this by March, but it's still the best thing they've done in years.
21. Texas - The Conversation
Who knew they were still around, but if I were around the table at a pop radio station I'd argue that this was every prospect of being a hit. Maybe it already has been, I'm not listening to the radio so how should I know?
20. Phoenix - The Real Thing
19. David Bowie - Atomica
You're out of luck if you prefer "ooooohhhhh fashion!" style hits over quiet introspection at this point of his career, but this is as close as you'll get. An extra track on the extended (cash-in) version of the album, but better than anything he's done since Hearts Filthy Lesson from the Seven soundtrack.
18 -
Sleigh Bells - Sugarcane
Practically the same song as the last one, and all their others, but louder.
17. Parquet Courts - Master Of My Craft
Slightly less stonery music for stoners. If there was any justice the "fuggataboutit" bit would become a catchphrase.
16. Arcade Fire - Joan Of Arc
The issue I have with Arcade Fire is that every album has a couple of belters and then a bunch of dull tracks that don't deserve a second listen. The formula was faithfully followed again this year. Also, enjoy some old mate's homemade music video.
Previous entries: (2)
2010: Sprawl II (Mountains Beyond Mountains (#9), Modern Man (#7)
15. Suede - Barriers
Presumably they're not jumping over barriers for the purposes of fare evasion, but their first new track in a decade thrashed the pants off the tracks from a decade ago (if not the ones off the first album).
14. Public Enemy - ... Everything
Modern PE = less political but actually better than you'd expect.
13. Haim - Falling
Full album not quite as good as I'd expected it to be based off their tracks from last year's countdown, but this is top shelf.
Previous entries (2):
2012 - Better Off (#29), Don't Save Me (#9)
12. The Orb and Lee Scratch Perry - Fussball
In which an elderly man blathers anything that comes into his head and makes a surprisingly good fist of it. Could soundtrack a million different highlights packages around World Cup time if given the chance.
11. Placebo - Loud Like Love
Another band who I didn't even know were still active, and if you didn't like them then you won't now but this appealed to the part of my brain that is still an 18-year-old life hating emo.
10.
Yoko Ono Plastic Ono Band - 7th Floor
In which an elderly woman blathers anything that comes into her head and makes a surprisingly good fist of it. Quite frankly I love this shit and I hope that as people like this drop off the perch that the next generation after them will continue to issue batshit crazy and insane tracks of a similar nature. This is her first appearance under her own name, but she did make to #13 it as guest vocalist on a
similarly barmy track
in 2009.
9. The Courteneers - Money
Comes off like a lovely fusion of 70's glam rock, Supergrass and Elbow.
Previous entries: (2)
2007 - Acrylic (#91), Cavorting (#59)
8. Mat Zo/Porter Robinson - Easy
Oh hello, it's the token mass market track in the top 10. Well shove it. This reminds me of the brief period in my life where I was off my bifter every weekend. At 32 memories are about all that's left, and no doubt I'd have despised this at the time. The video is a bit cutesy, but then again so is the video for One More Time by Daft Punk and people whop off over that.
7. Neon Neon - The Jaguar
The first Neon Neon album, an improbable concept album about carmaker John De Lorean, was wall to wall gold covering a number of genres. So, even when it was announced that the concept for their second album involved some obscure revolutionary I wasn't all that concerned. Sadly it turned it to be total slop, and nothing like
Stainless Style
, except for this track which could easily be bolted onto that that album and lose nothing (except the concept).
Previous entries: (2)
2008 - Michael Douglas (#16), Luxury Pool (#2)
6. Public Service Broadcasting - Everest
More cheating with lyrics provided by newsreels of the past, but at least for once you'll learn something from reading TSP.
5. Cold War Kids - Jailbirds
Every year without fail there's one song that I put on my shortlist then proceed to totally forget until going through said list to whittle it down to 50. Not sure how I missed listening to this one more. I feel like there's some reason I'm supposed to dislike this band, but this is a cracker which has shot up the chart so much in the last week that it would probably be #1 if I waited another seven days.
Previous entries: (1)
2007 - Hospital Bed (#98)
4. Arcade Fire - Reflektor
Ignoring all the 'artistic' shenanigans of them calling themselves The Reflektors, launching the album via cryptic clues and playing concerts in giant papier mache heads as if they were in the crowd at a darts match, this is by far the standout track. I await another two crackers amongst 12 middling tracks extravaganza in a couple of years.
3. Daft Punk - Lose Yourself To Dance
That the next two songs were absolutely magnificent shouldn't detract from the fact that half of the songs on Random Access Memories were a bit meh. So maybe it didn't deserve the full stars, but if the rules didn't stop me putting more than two from each artist in every year I might have fit five of the tracks in the top 50.
2. Daft Punk - Get Lucky
This was hard to avoid and should have got more tedious the more you heard it, but good god what a mighty song it was/is/will be in the future. If you, like I often do, look forward 30 years and wonder what songs they'll be playing on golden oldies 2000-2010's radio then I guarantee you this will still be on high rotation. A rare example of 'the people' and I being in furious agreement....
1. Franz Ferdinand - Right Action
... but not furious enough to get behelmeted Frenchmen in at #1. Instead Franz return Great Britain to the top of the pile for the first time since 2008 (current standings - GB 4, USA 4, Sweden 1) with quite frankly the best thing they've released since Take Me Out by some considerable margin.
It's got pretty much everything you could want in an 'indie' pop/rock song including a singalong chorus and a length of just over three minutes so it never outstays its welcome. That it never charted in the UK and only made it to #38 on some sort of consolation "Indie" singles chart is quite criminal.
Previous entries (2):
2009 - Can't Stop Feeling (#39), No You Girls (#32)
And that's it from TSP Towers VIII. Abuse, suggestions for what I may still wish to listen to, legal threats and "WHERE IS [?]" via the comments please.